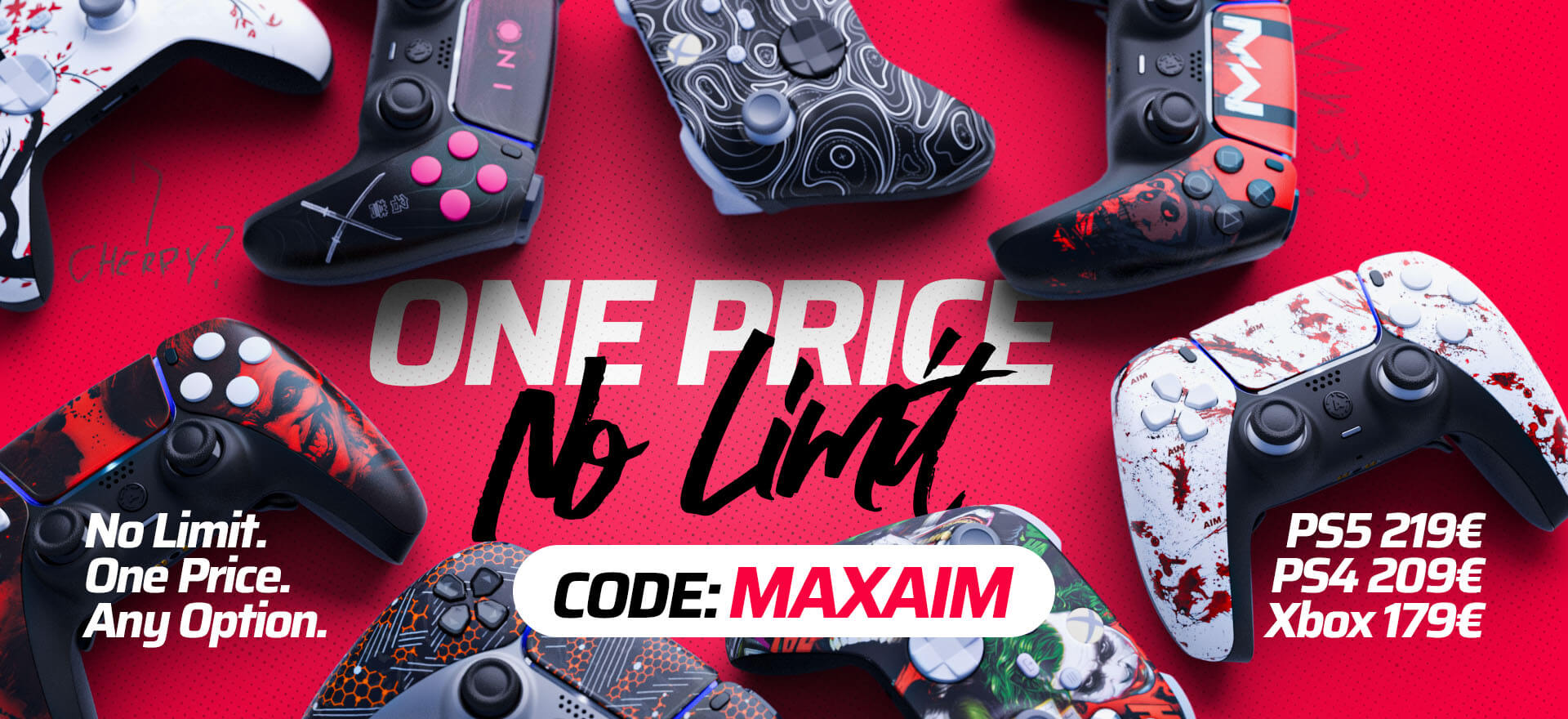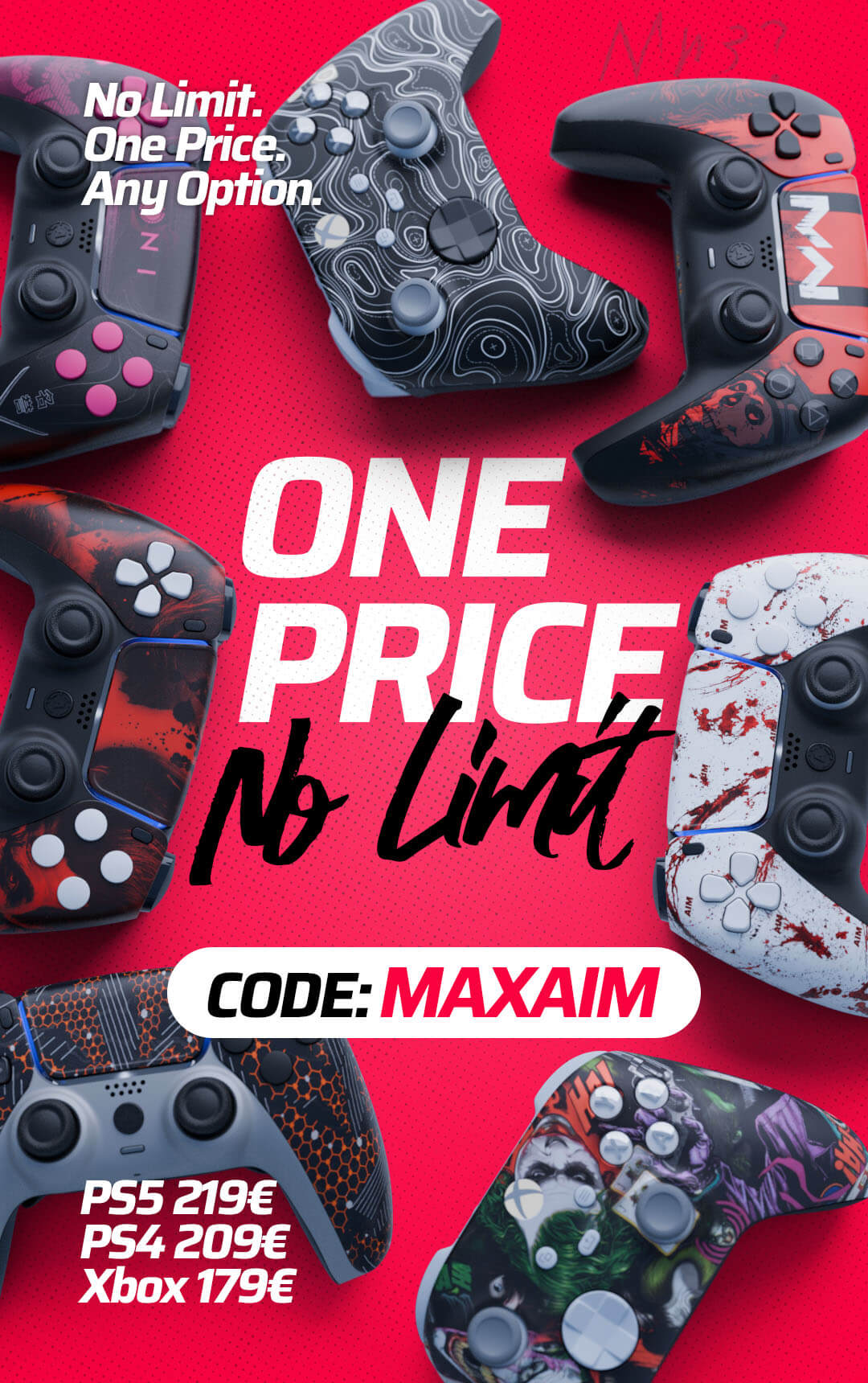 ENDLESS CUSTOMIZATIONS
Create a fully Personalized Controller to enhance your gaming experience
About us
Why AimControllers?
Lifetime warranty
By choosing AimControllers, you can count on products that last a lifetime. Our industry leading lifetime warranty means the end of worrying about controller issues. AimControllers has you covered!
Original, high-quality controllers
Only one thing in our controllers isn't hand built – the controller itself. At AimControllers we only use officially licensed Sony & Xbox controllers as a base. As gamers ourselves, we ensure the quality of parts and construction are always top notch!
Over
100000

design combinations
Express yourself! Stand out against the status quo and create something unique. AimControllers is always on the cutting edge of technology enabling you to create the controller of your dreams.
Designed and manufactured in Europe
AimControllers is a leader in providing fully modified and original controllers built in Europe. Take your gaming to the next level using the most powerful equipment.
Do you value the highest quality equipment? Whatever the situation, you always go for the best? Do you have individual style, but functionality and comfort come first? If so, that's great, because it's for such connoisseurs that we have created the opportunity to buy and design the best Customizable PlayStation Controller from AimControllers! Would you like to hear the details of our offer? Do you? Then read on carefully.
Customizable PlayStation and Xbox Controller – unique design for enthusiasts
They say that looks do not matter. Maybe when it comes to company, but if you are spending a hefty amount of money on top quality hardware, you definitely want it to look good, be unique and pleasing to the eye. This is something that standard, monochrome controllers cannot offer you, as each successive model resembles the previous one in both appearance and functionality. So, for those who want something extra, we recommend taking a look at our range and buying a Customizable PlayStation Controller that reflects your individual style and taste! You can choose from dozens of ready-made designs and templates, or if you're more creative, you can design your own device! Use our handy creator to create a Customizable PlayStation Controller with your own name, initials, photo or in the style of your favourite PlayStation game. With us, you can let yourself go wild and be sure of the best quality materials and workmanship!
The Best PlayStation Controllers only by AimControllers
If PlayStation gaming is not new to you and you can boast a solid track record, then surely you know that, beyond aesthetics, what counts when it comes to accessories such as the Customizable PlayStation or Xbox Controller is functionality, ergonomics and durability. Unfortunately, it is quite rare for the original, traditional accessories for this type of console to meet all these requirements. After all, manufacturers are only concerned with the most universal equipment, which will be bought by the largest possible group of people, and not on the individual gaming experience. Therefore, if quality is of paramount importance to you, do not pass up AimControllers' offer indifferently! Because only here you can buy the equipment which perfectly suits your needs and possibilities! We give you the freedom to design your own Custom PlayStation Controller and make every function and button placement to suit your preferences, plus we guarantee the durability and performance of all components, as we use only the highest quality materials and technology. Because we know that everyone deserves the best performance and game comfort!