ENDLESS CUSTOMIZATIONS
CUSTOM PS5 CONTROLLERS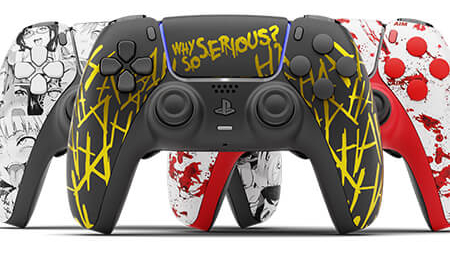 CONTROLLER CUSTOMIZED TO YOUR NEEDS
Over 100000 possible design combinations

Enhance your gaming experience with
FULL CONTROL
8x FASTER REACTION TIME
4 PROGRAMMABLE REAR BUTTONS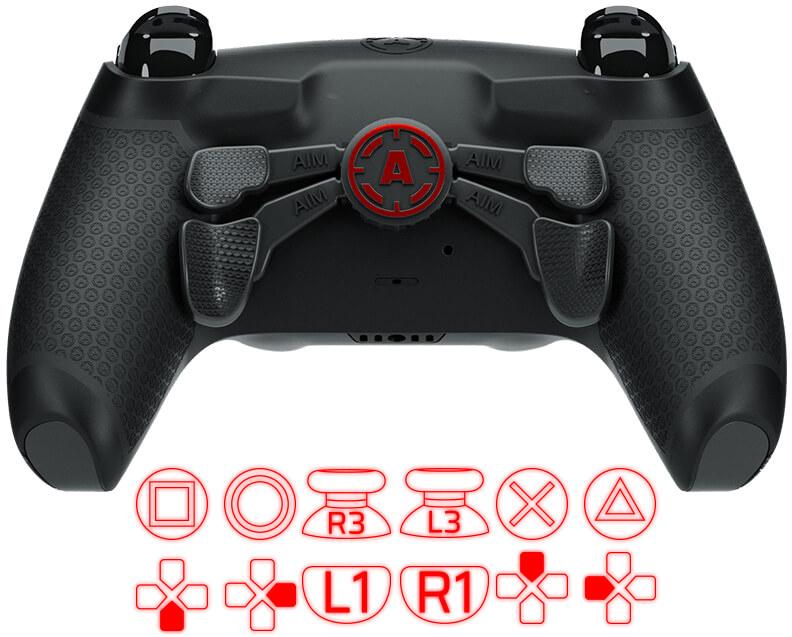 4 PROGRAMMABLE BUTTONS
The paddles installed at the back of the controller improve the comfort and efficiency of playing.
Thanks to the 'remapping' function, you can improve your response time during the gameplay without distracting your mind or hand layout while performing the movement and action desired by your favorite game.
You can assign to them functions of the front panel buttons – all depending on your needs. The most important aspect of this modification is that the entire process takes no longer than 30-40 seconds.
SMART TRIGGERS & BUMPERS
Smart Triggers & Bumpers allow you to act faster as their response time is much quicker thanks to the special, digital mechanism. The short click will i many types of games.
They improve player's response time, which makes them perfect especially for shooter and action games.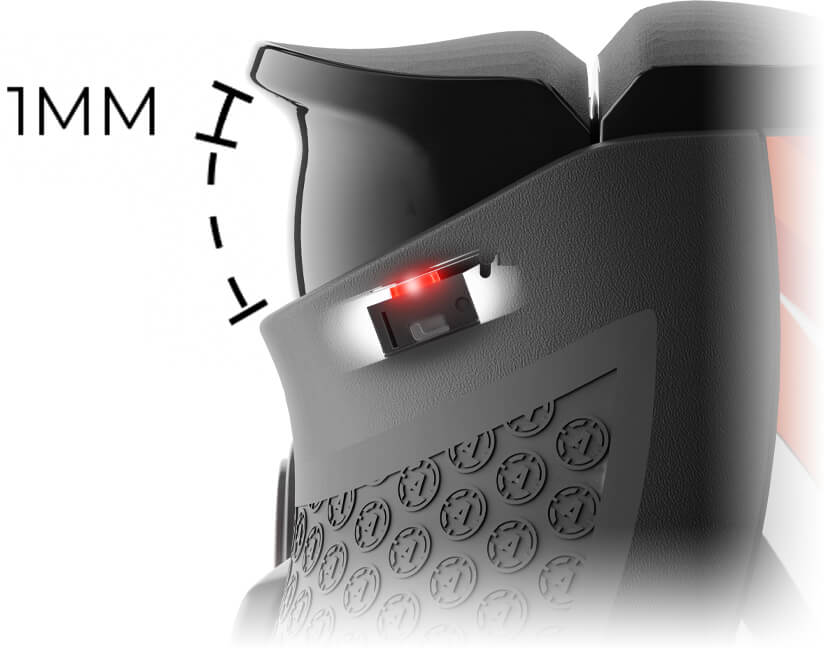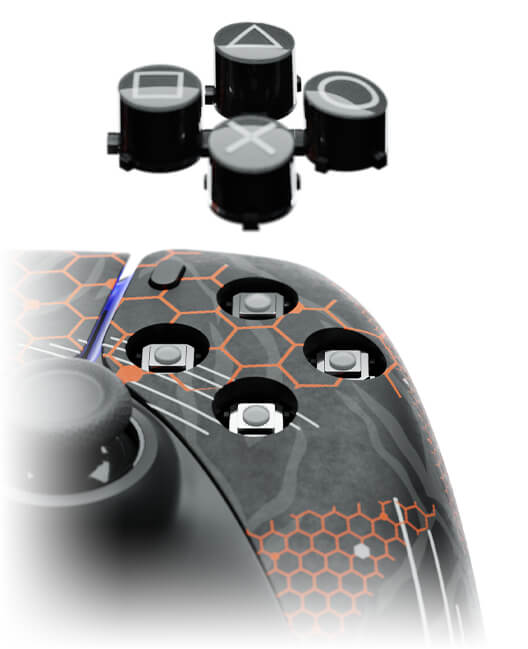 DIGITAL BUTTONS
Digital Action & D-pad buttons replace the stock rubber membrane with a more precise "mouse click" activation button. The result is a short click and crisp sound while increasing the speed and accuracy of action and d-pad pressing.The new click will certainly improve your sensation and comfort during gameplay!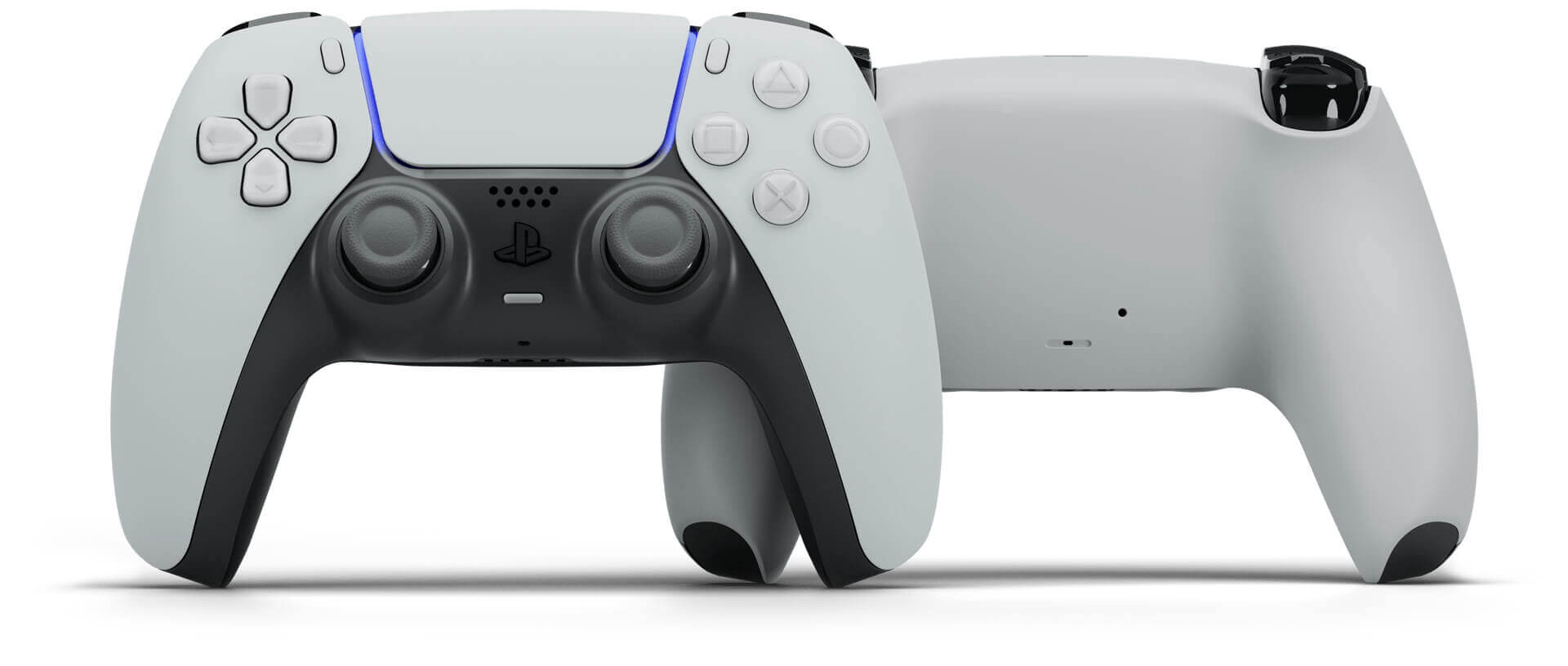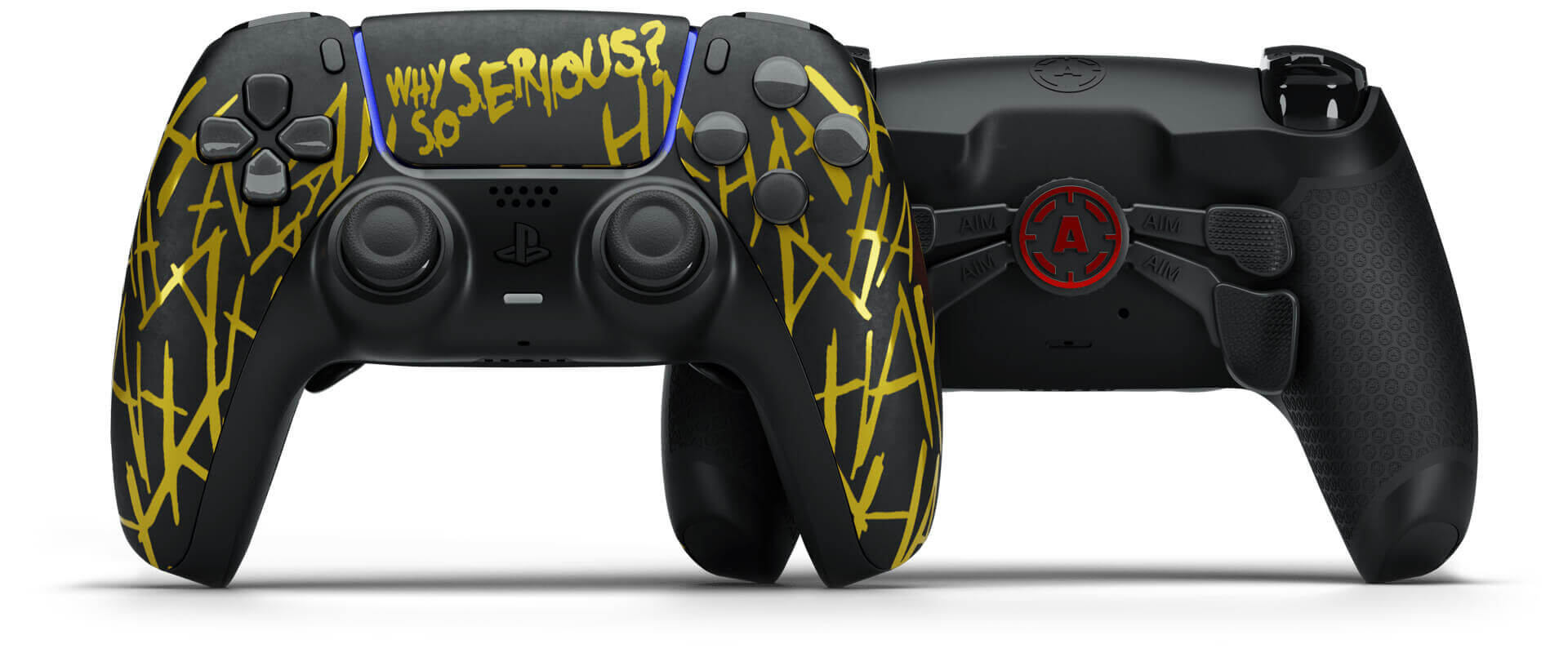 Dozens of pre-made designs and templates
LIFETIME warranty on all customizations
Programmable Back Paddles
2 types, 3 heights, 8 colors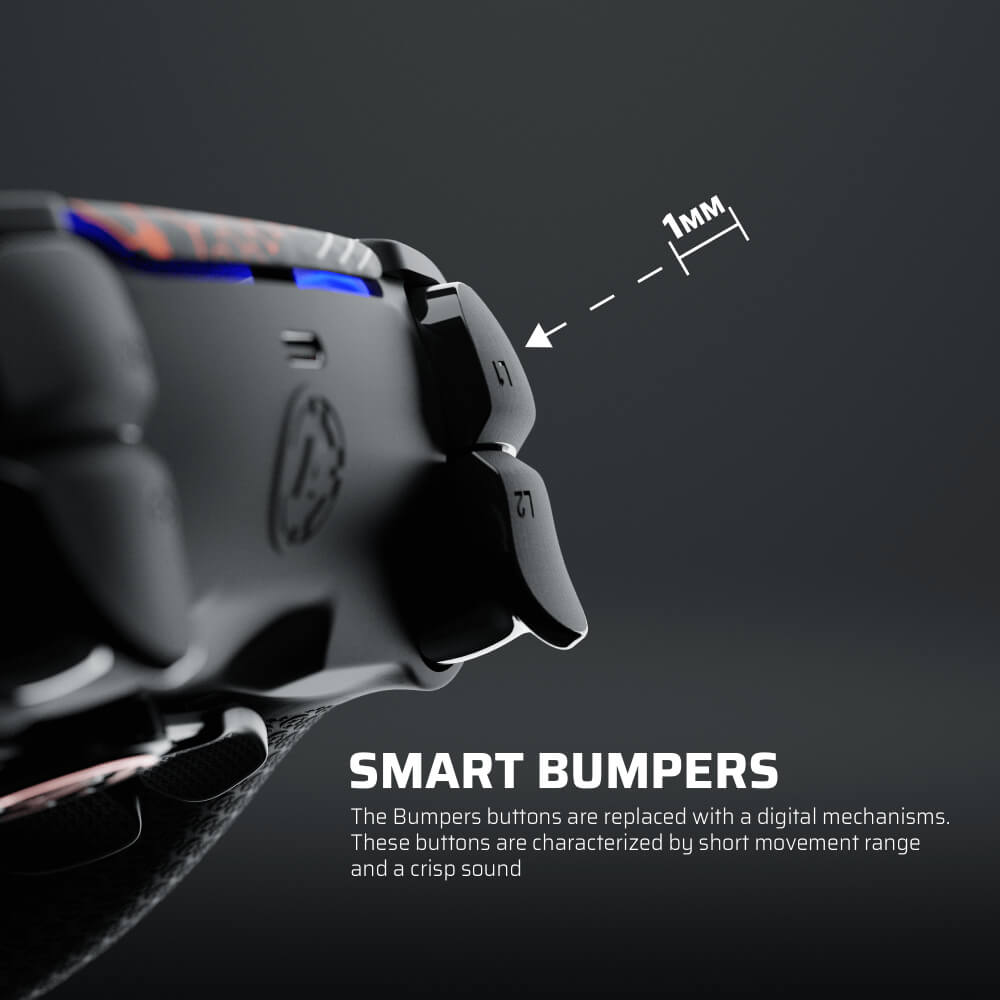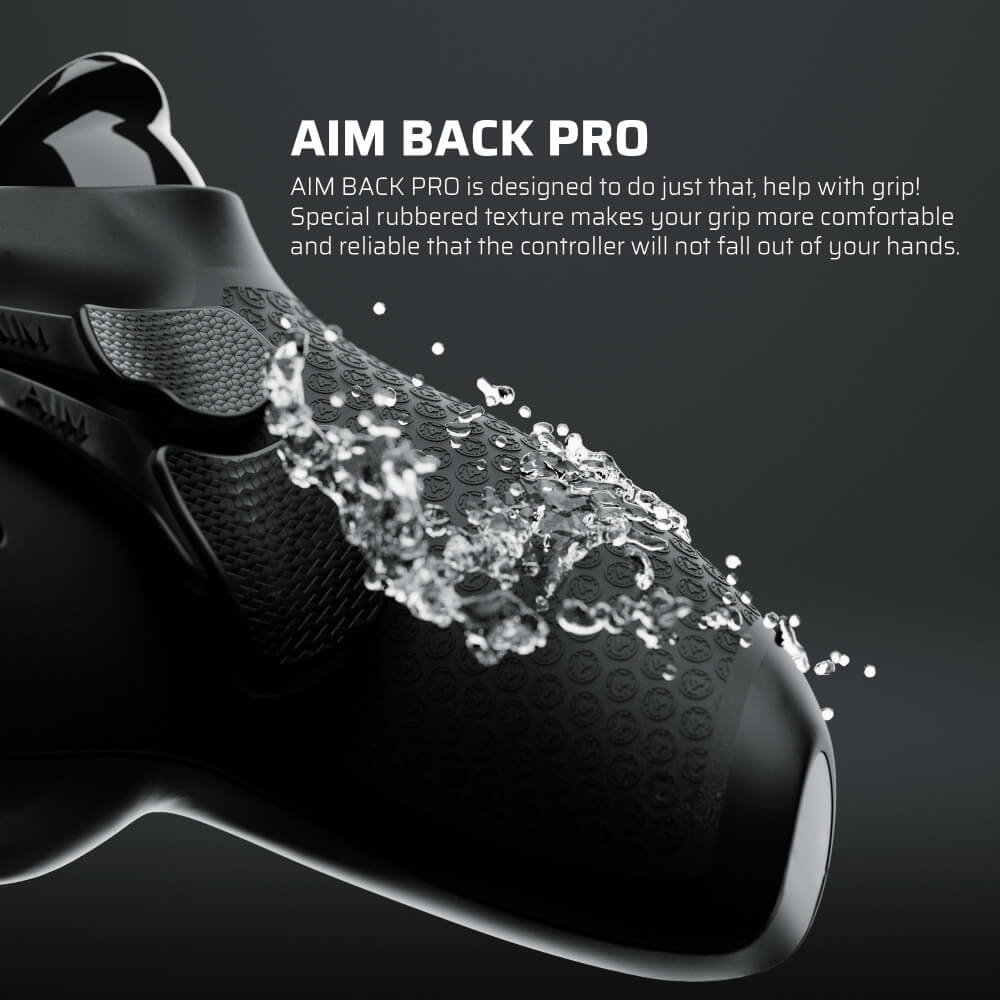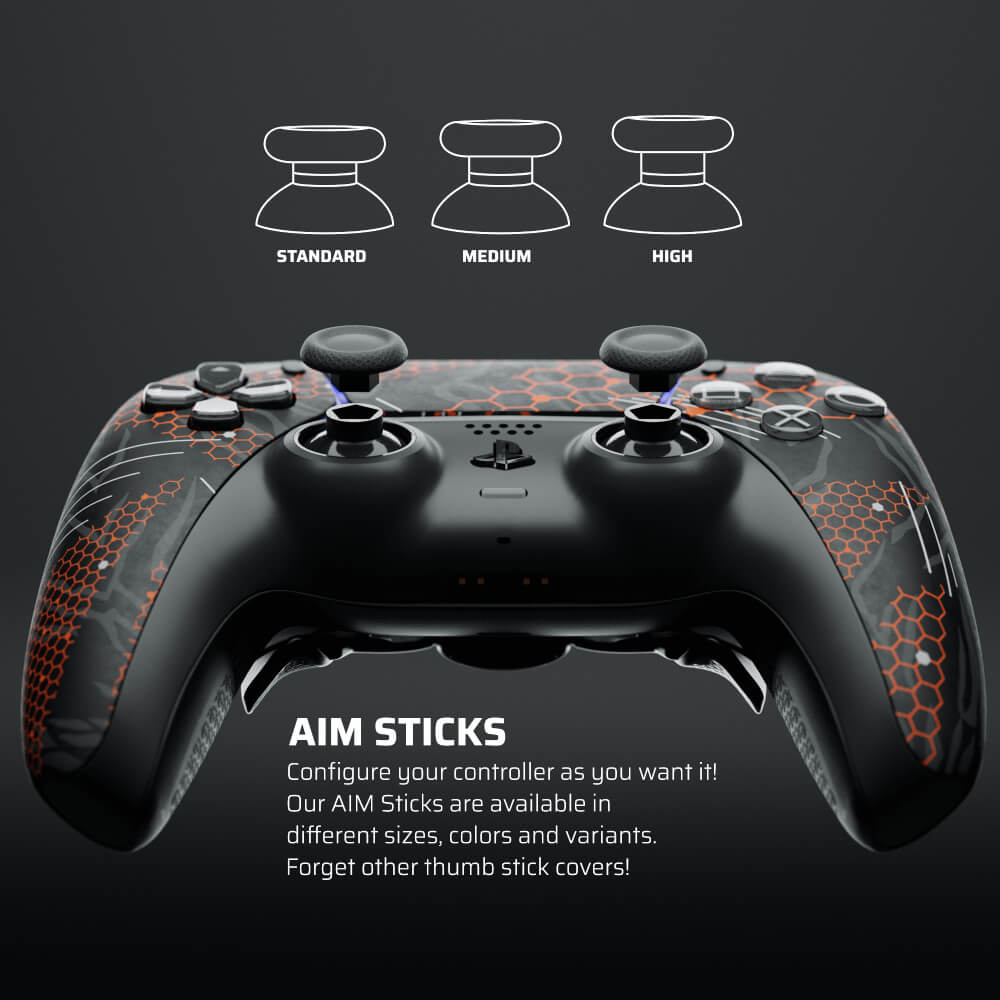 READY TO CUSTOMIZE PS5 CONTROLLER?
A brand new, customized PS5 controller that not only looks awesome, but is tailored to your needs in terms of functionality is a gaming enthusiast's dream. No matter how long you've been a gamer or how often you play, a customised PlayStation 5 controller will make the whole process of gaming more enjoyable, convenient and, best of all, give you an almost instant boost to your skills and performance in almost every game available for PlayStation 5! Not to mention the joy of looking at your beautiful, hand-designed PlayStation 5 custom controller, in your favourite colour, the design inspired by the game you love or with your own name on it. Who would not enjoy such a personalised yet useful gift! We definitely cannot find such a person. Therefore, the whole AimControllers team worked for several years with the best hardware manufacturers on the market, carefully selected materials and designs, to give all gamers this unique opportunity. And for the sake of ease of use, we have created our own easy-to-use creator, where you can perfectly customize your custom made PS5 controller to suit your needs. Well, that's a bit of an introduction, and now let us tell you in more detail about the outcome of our many years of work.
Personalized PS5 Controller of your dreams only by AimControllers
Are you dreaming of a personalised PS5 controller that looks phenomenal? Is your home gamer's birthday coming up and are you looking for the perfect gift idea that reflects both your love for him and his original style and tastes? Or maybe you're not satisfied with the layout of the functions and buttons on a standard controller and are looking for an alternative? Whatever the reason, we have a fantastic new product for you! Thanks to our many years of work, cooperation with the leading design experts in the industry as well as manufacturers of both, components and creators of controller technology we are able to meet all of aforementioned requirements. And best of all, we work in multiple ways. Through our website you can make your own PS5 controller that not only suits you in terms of looks, but also functionality. All of this to ensure maximum comfort and gaming pleasure! So, if you want to experience the ultimate gaming experience, then be sure to read the rest of this article. There, we will tell you more about our range of products and how to make a custom PS5 controller of your dreams.
Create your own PS5 controller
Every fan of console and computer games is certainly perfectly aware of how important gaming equipment and its ergonomics are for the comfort of play and the results of particular games. That is why we, as avid gamers, seeing a considerable gap in the console accessories market, have decided to make it possible for everyone to buy the perfect custom made PS5 controller, meeting individual needs, improving gaming performance and comfort. And when we talk about customisation options, we don't just mean in terms of its appearance, because we consider customisation services in terms of looks alone to be major neglect of the subject. Of course, it is important, but equally vital in our opinion is the correct positioning of the buttons and touchpad. After all, everyone has different physical conditions, hand sizes and shapes, so how could we assume that everyone will be suited to standard hardware that does not take into account each player's individual characteristics and needs? We think this approach is wrong, which is why in addition to personalizing the look, we have also focused on changing the functional features of each personalized PS5 controller!
Customized PS5 controllers in terms of functionalities – what elements can you personalize?
AimControllers is a one of the most successful brands supplying completely customisable and original controllers of the highest quality, perfectly matched to your physical conditions, because only with us can you adjust every element of your new controller to your liking. Those who love fast-paced games that require lightning-fast reactions such as Call of Duty and Fortnite, AimControllers have created an unprecedented opportunity to gain a competitive edge and achieve ultimate game experience with the ability to change the size of individual buttons and additional options such as Smart Triggers and Smart Bumpers that can be added to your new custom PlayStation 5 controller. With faster response times, you can play faster and more accurately, thus optimising your performance. And for even more gaming comfort, you can upgrade your custom PlayStation 5 controller with Aim grips so you can play for hours on end without it slipping out of your hands. What else can you change about your PS5 personalised controller? You also have the option to order ergonomic static or mappable controllers that can be installed on the back of your controller, minimising the need to use your thumbs while playing and aiding in accurate control during gameplay. Using our convenient configurator, you can now customise not only the height but also the colour of both sticks! The different size options will give you more precise control, and on top of that you can express your unique style. In conclusion, by using our website you can create your own PS5 controller and adjust the parameters of almost all the individual components. Our easy-to-use creator allows you to customise everything from the grip to the sticks, triggers and bumpers, side, back and front panels, as well as the colour, material and positioning of the buttons. Your options are endless!
Personalized PS5 controller in terms of appearance – design your own PS5 controller or choose one from available options
We have already told you a lot about optimising and personalising controllers in terms of functionality, so now it is high time to describe the PS5 controller design options offered by our company. Because with AimControllers, you can build your own PS5 controller that reflects your unique taste, and individual style and character! You can do this in two ways. The first is much easier, as you simply choose the one you like best from the hundreds of designs, colours and graphics available on our website. You will find, for example, up to 9 monochrome versions – we have red, green, yellow, pink, white, blue, black and orange colour options available – or you can opt for one of the trendy patterns. You can choose from animal motifs, colourful patterns, military-style or hip-hop controllers, colourful psychedelic ornaments, cartoon graphics, photos and much more. The second option allows you to custom design your PS5 controller yourself! You can let your imagination run wild and feel like a true artist with a custom PS5 controller with paddles, sticks and buttons in a variety of colours and patterns. This will give you a unique and unusual appearance that will make you not want to part with your equipment for a long time. Now you may be wondering how to customize a PS5 controller without any artistic sense or experience. Well, this is why we are here to reassure you. With our intuitive customizer, the process is easy, so let go of your worries and create a PS5 controller to your liking!
PS5 Controller Customization – is it worth it?
In conclusion, we would like to once again highlight all the benefits of buying custom PS5 controllers from AimControllers and answer the question of whether it is worth it to opt for a custom made PS5 controller or if it is just a whim. In our humble opinion, properly selected equipment is half the battle when it comes to gaming performance, not to mention comfort and ergonomics! By buying a PlayStation 5 custom controller from our company, you can be sure of the highest quality workmanship, the use of only the finest components and attention to every detail of the transaction. We are a company made up of console game enthusiasts, which is why we know our stuff and can easily identify the most important needs of gamers. This is why we have made it possible to fully customise all elements of the controllers. We are aware that every player has different needs, tastes and gaming styles, including preferences in terms of favourite games and style of their equipment. Customer satisfaction is our number one priority, which is why in addition to ensuring that all functional elements can be adapted, we have also ensured that our controllers are aesthetically pleasing. This gives you the opportunity to create your own PS5 controller, in such a way that each individual element will be perfectly suited to your taste and desires. Therefore, do not wait to design your own PS5 controller, buy it and enjoy ergonomic and enjoyable gaming, and at the same time show your individuality, character and style by using our fantastic creator. Believe us – once you try PS5 controller personalised with AimControllers, you will never go back to traditional PS5 gear again!