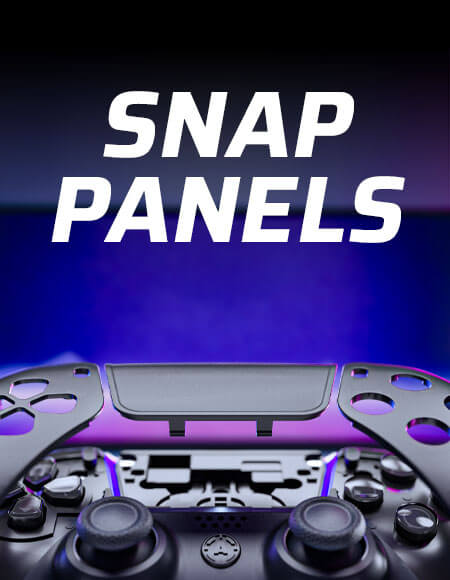 Interchangeable faceplates with a magnetic socket
Change the look of your controller in a snap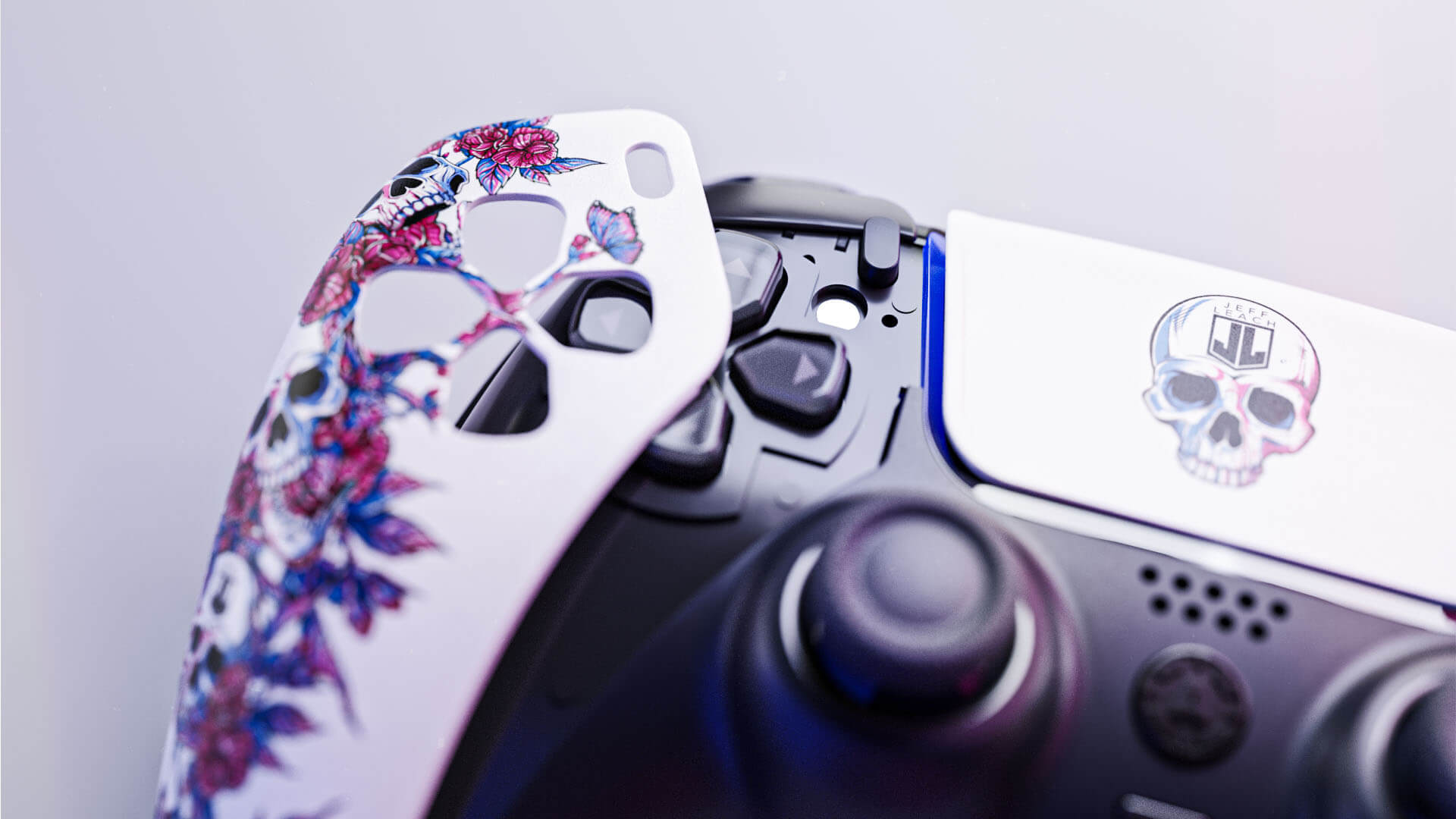 IT'S NOT JUST AN ACCESSORY
It's an extension of your style, your mood, your spirit.
WHY PLAY BY THE RULES WHEN YOU CAN REDEFINE THEM?
Your gaming experience should be as unique as you are, and now it can be.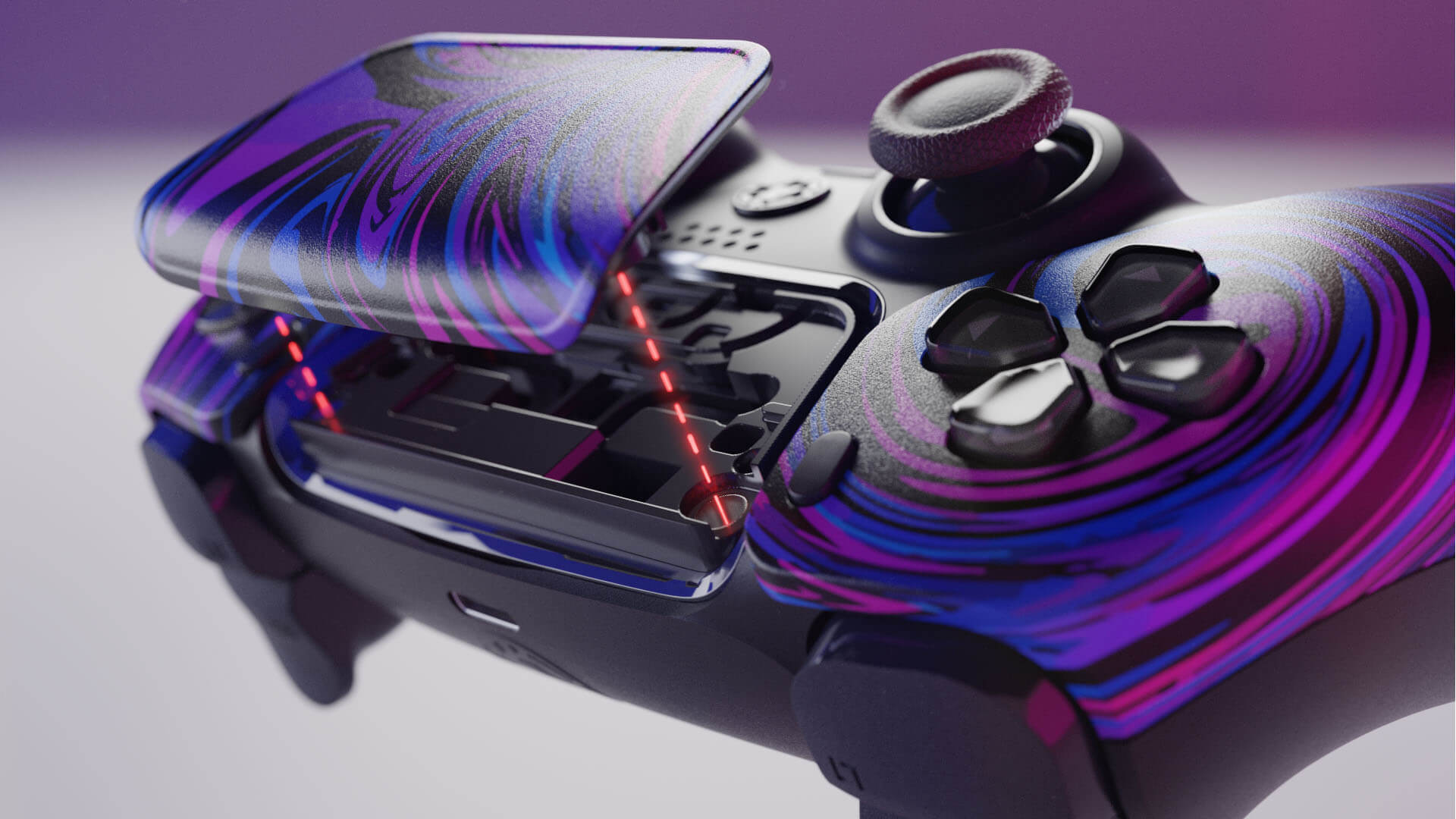 SNAP PANELS FOR PLAYSTATON 5 IN 20 SEC
Transform Your PlayStation 5 Experience with Snap Panels
When it comes to gaming, nothing beats the immersion and thrill that a PlayStation 5 offers. Yet, there's always room for personalisation. Imagine the possibilities with endless customisation at your fingertips. Enter Snap Panels for PS5 dualsense controller. These innovative accessories will redefine your gaming setup by adding flair, functionality, and a personal touch. But how do they work? And why should you consider getting one? Let's dive in.
First off, what are Snap Panels?
Simply put, they are detachable panels that easily "snap" onto your PlayStation 5 console. These aren't your run-of-the-mill, drab accessories; we're talking about vibrant designs, sleek textures, and even enhanced cooling solutions. When you add Snap Panels to your PlayStation 5 dualsense controller, you don't just play; you play in style.
Now, you might ask, "Why do I need them?"
Well, think about it. You've probably invested a good amount in your PS5 console. From the latest games to the most ergonomic controllers, you aim for the best. So why settle for a generic look? Snap Panels for dualsense offer a high-quality, visually pleasing upgrade that sets your controller apart. Moreover, they come in various themes, be it Marvel, Star Wars, or your favourite sports teams. There's something for everyone.
Snap panels are for me, really?
The possibilities are endless! And guess what? They're incredibly easy to install. A quick click, and voila, your controller transforms before your eyes.
If you're passionate about gaming and keen to elevate your PlayStation 5 setup, Snap Panels are the way to go. Easy to install, aesthetically pleasing, and functionally beneficial, these accessories are the missing piece in your ultimate gaming experience.
Learn more about snap panels
Functionality is king, and these panels deliver in spades. Tailored to be an immaculate fit, they remain securely in place, ensuring zero interruptions to your gameplay on PS5. Your fingers glide naturally, your grip feels sturdy — every aspect is engineered for optimum performance.
Colour your world the way you see fit with an unparalleled range of shades and finishes. Whether you're into the sophistication of matte black, the understated charm of earthy tones, or the electric energy of neon hues, we've got you covered. The best part? We offer bespoke colour options to match your unique taste. Just let us know your preferred palette, and we'll craft the snap panels you've been dreaming of. Your PS5 controller cover is more than a gaming accessories; it's a canvas waiting to be personalised. With limitless colour combinations, your creativity knows no bounds. Customise yours today for a gaming experience that's truly yours, and yours alone.
Harmonise your gaming setup effortlessly with our new snap panels for PS5 dualsens controller, expertly designed to complement the AIM Charging Station. Convenience meets style as you place your bespoke controller onto its charging hub. Not only do our snap panels look stunning, they also ensure a snug, secure fit when docked, maximising charging efficiency. No awkward adjustments or worries about misalignment—just seamless integration for uninterrupted gameplay. Upgrade your controller with our snap panels, and you'll find they're the missing piece in your ultimate AIM Charging Station setup. So why wait? Make the whole gaming experience as sleek and functional as it is exhilarating.
Safety meets style when you pair our iconic snap panels with the new Aim Case PS5, your go-to for robust controller protection during travel. Our snap panels are meticulously designed to snugly fit within the Aim Case for PS5 controller, offering an additional layer of safeguarding without compromising on space or aesthetics. Whether you're jetting off to international tournaments or simply heading to a friend's house, you can travel with confidence knowing your customised controller is securely encased. It's the peace of mind you need, wrapped up in the style you deserve. Elevate your travel game today!
Looking for the ultimate gift for the PlayStation 5 enthusiast in your life? Your search ends here. Our snap panels aren't just accessories; they're top-tier gadgets for PS5 gamers that any serious gamer would be thrilled to own. More than a visual upgrade, they're an experience, a statement of individuality and a testament to superb gameplay. Presented in stylish packaging that matches the premium quality of the product inside, it's the ideal gift that speaks volumes. Whether it's a birthday, an anniversary, or just because, give them something they'll not only love but actually use. 
Why play by the rules when you can redefine them? Elevate your gaming experience now.