AimControllers RGB Mechanical Keyboard
To meet the expectations of players, we have created a keyboard that, thanks to its durability and modern design, meets the expectations of even the most demanding players. It looks phenomenal and professional at the desk of each gamer. Do not hesitate and gain an advantage thanks to AimControllers RGB Mechanical Keyboard

Mechanical keyboard
Much greater durability and 10 times longer lifespan compared to classic keyboards, and the solid metal casing provides you with even greater comfort from gameplay during many hours of gaming sessions.
Full size Mechanical keyboard
Full RGB Illumination
Mechanical Blue Switches
Multimedia Function Keys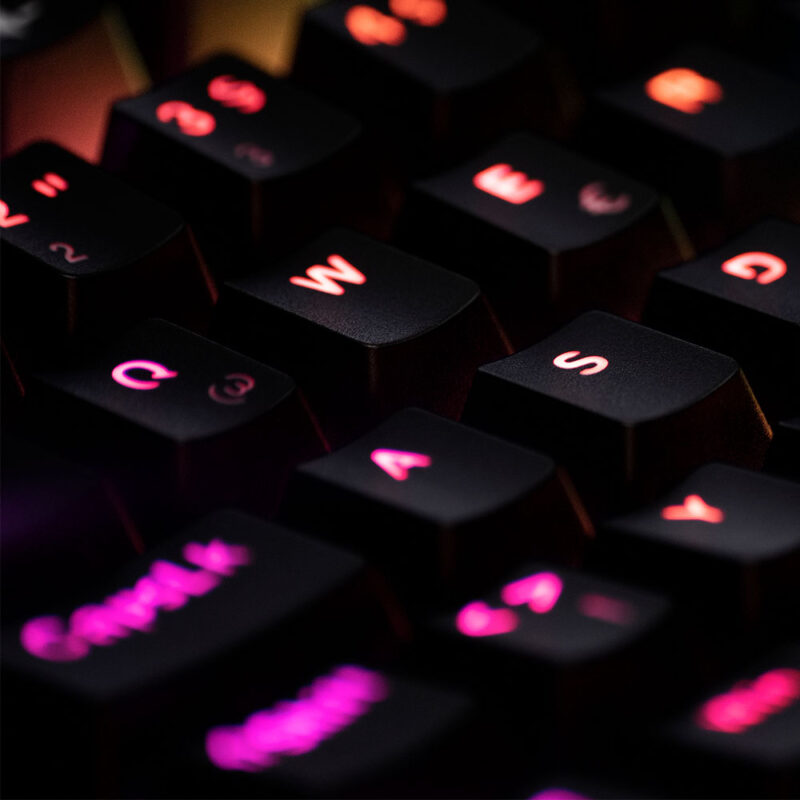 RGB backlight
The backlit keyboard catches the eye with a great design and is a convenient solution for night owls. As many as 13 possibilities to set the colors and ways of the keyboard backlight. The wide selection allows you to adapt them to your preferences.
Now with RGB illumination of the keyboard, you have even more ways to illuminate your gameplay and watch your keyboard come to life.
Dedicated software
A macro creation function that allows you to assign a string of keys to one of them, which opens up many possibilities for you and increases your advantage over others on the battlefield.
Install software and choose any of profiles, profile 1, profile 2 or profile 3. They are for 3 different games. Now you are ready to go!
Download Software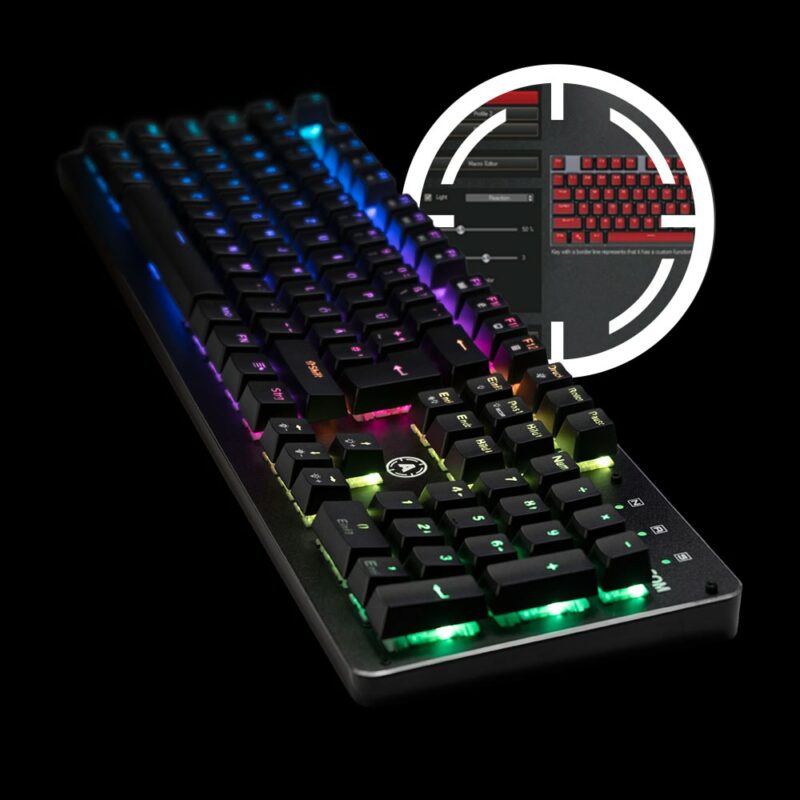 SPECIFICATION
Wired Full size Mechanical keyboard
RGB Light illumination (13 customer setting)
Tailor Make Program Macro Keys Function
Multimedia & Function Keys
Mechanical Blue Switches
Metal top cover, 104 keys, double injection keys
Plug & Play USB Cable
Supported operation system Windows 10/8/7/Vista/XP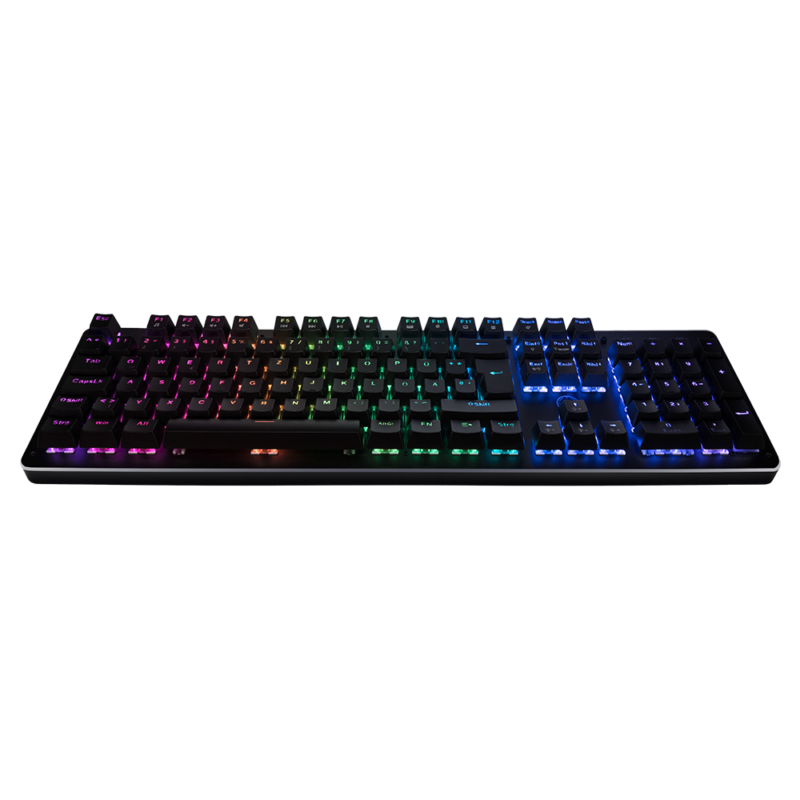 The RGB keyboard is an innovative and advanced type of LED-backlit keyboard that generates its own colours by simultaneously displaying combinations of red, green and blue light, just like other hardware, creating millions of potential shades and tones. Mechanical gaming keyboards allow you to select your favourite colours and program them to appear on specific keys or in special combinations, which not only improves visibility but also gaming comfort. Keyboard effects are often linked to specific gaming features and events or to real-time computer performance for the ultimate gaming experience. If you are a gamer, you probably already know that an RGB keyboard will help you quickly locate the most important keys to maximise the acuity of each keystroke and help you best navigate your gaming environment. If you are interested in this type of equipment, then read this post to the end and find out what RGB mechanical keyboards from Aim Controllers can do for you.
Mechanical gaming keyboard by AimControllers – why is it worth it?
The ideal mechanical RGB keyboard is such a device, which is ideally suited to the preferences and requirements of each individual user in terms of size, key distribution, backlighting modes, materials used, appearance and functionality. Standard, traditional keyboards bought in chain hardware shops are definitely not always able to meet all these expectations, which is why we offer an innovative mechanical gaming keyboard by AimControllers as an alternative. To satisfy gamers' expectations, we have created a keyboard that, thanks to its durability and modern design, fulfills the requirements of even the most demanding gamers. It looks phenomenal and professional on every gamer's desk. What are the features of our RGB keyboard? Well, it is much more durable than standard keyboards and has a lifespan up to ten times longer than conventional ones, while the solid metal casing provides even greater comfort during long gaming sessions. The main advantages of our mechanical keyboard include its size (it is a full-size mechanical keyboard of the highest class), full RGB backlighting, the use of mechanical switches and multimedia keys! Get a head start with the AimControllers RGB Mechanical Keyboard right now.
RGB keyboard by AimControllers – the best available option for game passionate.
Every PC game enthusiast knows the importance of features and hardware on game quality and performance. That's why together with a whole team of experts, we have developed the mechanical gaming keyboard by using the most innovative technologies, top-notch components and materials to ensure the best gaming experience possible today. The illuminated keyboard is an eye-catcher with a great design and is a convenient solution for night gamers because it clearly improves the visibility of the individual keys and thus reduces our reaction time. A wide choice – as many as thirteen different options for setting colours and ways of backlighting the keyboard – allows you to adjust them to your preferences to the greatest possible extent. Now, with RGB backlighting, you have even more ways to illuminate your game and make the keyboard come alive to match both the dynamics of a specific game and your tastes. In addition, the AimControllers team has created innovative, dedicated software with a macro function that allows you to assign a string of keys to one of them, which opens up many possibilities and increases your competitive edge. So, do not wait and browse the assortment of AimControllers online shop and get the mechanical gaming keyboard of your dreams. With this equipment you will improve your comfort and performance.
RGB keyboard by AimControllers – summary

As a conclusion, we would like to once again describe the advantages from a professional mechanical gaming keyboard. Firstly, a properly selected RGB mechanical keyboard improves the visibility of the keys and thus the visibility and comfort of the game. Secondly, the keyboard from AimControllers is extremely durable and robust due to its sturdy housing. Thirdly, you can personalise its appearance by adjusting the respective backlighting modes. Finally, it's the highest quality equipment on the market to optimise game performance. What more could you want? We warmly invite you to shop at AimControllers!