Are you looking for an alternative to the original PlayStation 5 controller? Would you like to know are PS5 Pro controllers worth it or what PS5 controllers Pros use? Or perhaps you wish to get the answer to the eternal question of which controller is best for PS5? 
Good for you, as today we bring you the ultimate PS5 controller rating and review. Here, you have a comprehensive DualSense controller review and read about the best PlayStation 5 controllers in 2023 provided by other well-known brands.
Sony DualSense – Design, Comfort and Features
Before we get to our PS5 controller comparison, let's kick off with the Sony DualSense PS5 controller rating.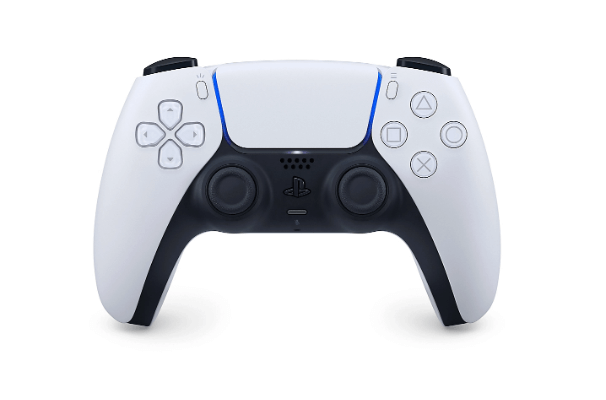 Source: PlayStation website
Design & Comfort
As the official PlayStation 5 controller, the Sony DualSense has gained widespread popularity among gamers. Its sleek design, comfortable grip, and innovative features make it a top choice for many PS5 users. The DualSense features a two-toned colour scheme with a matte finish, giving it a modern and sophisticated look. This PS5 controller boasts an ergonomic shape that fits comfortably in your hands, allowing for extended gaming sessions without discomfort.
Features
One of the standout features of DualSense is its adaptive triggers and haptic feedback. The adaptive triggers provide varying resistance levels depending on the in-game actions, allowing for a more immersive gaming experience. The haptic feedback provides realistic and precise vibrations that enhance the sense of touch while gaming. Additionally, the DualSense features a built-in microphone, allowing for easy voice chat without the need for an external headset.
In terms of functionality, DualSense offers a wide range of features that enhance your gaming experience. The adaptive triggers and haptic feedback provide a level of immersion unmatched by other controllers. The built-in microphone allows for straightforward communication with other players. The controller also includes all the standard buttons and features you would expect from a high-quality gaming controller.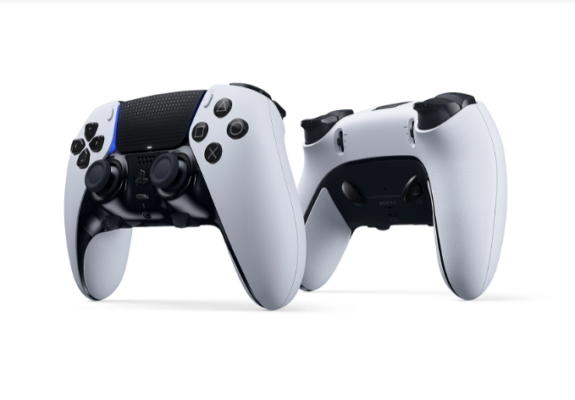 Source: PlayStation website
Specifications
The original controller for the PS5, the DualSense, has the following specifications:
Dimensions: 160mm x 66mm x 106mm
Weight: 280g
Action buttons: control crossbar, action keys (triangle, circle, cross, square), L1, L2, R1, R2, options button, station button, Create button, power button
Touchpad: Interactive 2-point touchpad with click, touch, and gesture support
Sensors: gyroscope, accelerometer, microphone movement sensor
Haptic vibration: yes
Adaptive triggers: yes
Colour: black and white
Battery: internal, capacity 1560 mAh
Charging time: approximately 3 hours
Operating time per charge: up to 12 hours
Charging: USB-C port
Wireless connection: Bluetooth 5.1
Cable: USB-C to USB-A
Setup & Functionality
Setting up the DualSense controller is a straightforward process. It can be wirelessly connected to the PS5 console using Bluetooth, or via USB for a wired connection. The controller also has a built-in rechargeable battery, which can be charged using the included USB-C cable or a charging dock.
Once connected, the DualSense controller offers a wide range of functionality. The buttons and triggers are highly responsive, providing precise control over gameplay. The haptic feedback and adaptive triggers add a new level of immersion, allowing players to feel the action in their hands. The built-in microphone and speaker provide simple communication with other players, although some users may prefer to use a dedicated gaming headset for better audio quality.
Pros & Cons
Is the DualSense the best controller? A pros and cons list is sure to help you answer this question.
Pros:
Sleek design with a matte finish
Comfortable grip for extended gaming sessions
Innovative adaptive triggers and haptic feedback
Built-in microphone for easy voice chat
Cons:
Limited battery life
Some users may find the controller too large for smaller hands
The built-in microphone may not provide the same audio quality as a dedicated gaming headset
The white colour of the controller may show dirt and wear over time
Price & availability
Price and availability in the UK market may vary depending on retailers and timing. However, in general, the DualSense controller in the UK costs around £59-£69, although this may vary depending on promotions and other market factors.
As for availability, the DualSense controller is generally available in many electronics shops, gaming shops and online sites. However, due to the popularity of the PS5 console and DualSense controller, it can sometimes be difficult to find it on sale, especially during periods of high demand, such as holiday periods or new game launches.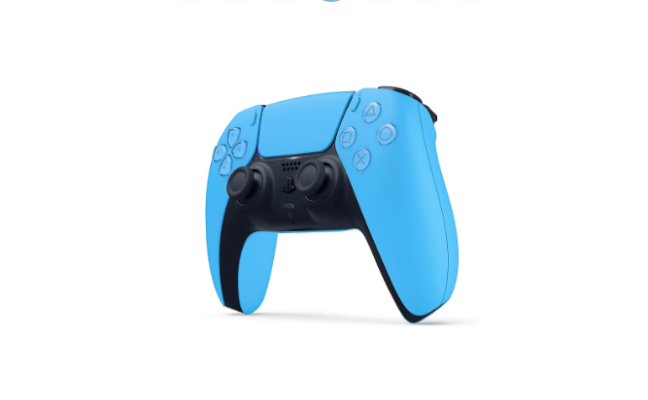 Source: PlayStation website
Buy if…
You want to enjoy just the standard features such as haptic feedback and adaptive triggers to enhance your gaming immersion.
You are a fan of standard Sony solutions.
Don't buy if…
You are not fond of bigger controllers and prefer smaller solutions.
You need a longer-lasting battery.
You expect the best sound and communication quality and use a dedicated headset.
You wish to gain a competitive edge through feature and design personalization.
Best PS5 controller 2023 – alternative DualSense gamepads ranked
Discover the best PS5 controller picks for gamers in 2023 – examine our list of the best alternative PS5 controllers that are in no way inferior to Sony's original hardware and often surpass it in terms of ergonomics, durability, and usability.
PS5 V1 Aim Controller
This is one of the most popular PS5 controllers available. The AimControllers controller was developed based on the original Sony solution, so its quality and robustness are equivalent to the original. Therefore, the AimControllers PS5 controller stands out for its innovative features and a massive choice of designs. On the company's website, you may design your own PS5 controller or choose from hundreds of available styles, such as the series of controllers developed with Robert Lewandowski.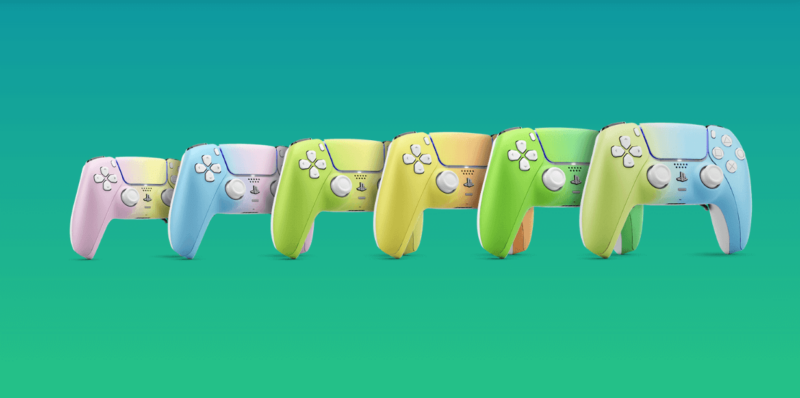 Source: AimControllers' website
AimControllers has developed a whole range of interesting features. The flagship features are undoubtedly Smart Bumpers and Smart Triggers, ideal for FPS-type games, which add to your advantage over your opponent and gaming comfort. The company's controllers also feature interchangeable sticks to fit the size of players' hands and the innovative AimGrip, making even hours of gameplay fatigue-free.
The advantages to not end there, thou. Recently AimControllers came up with the Adaptive Triggers, with the trigger buttons replaced by innovative digital mechanisms that make them freely changeable anytime.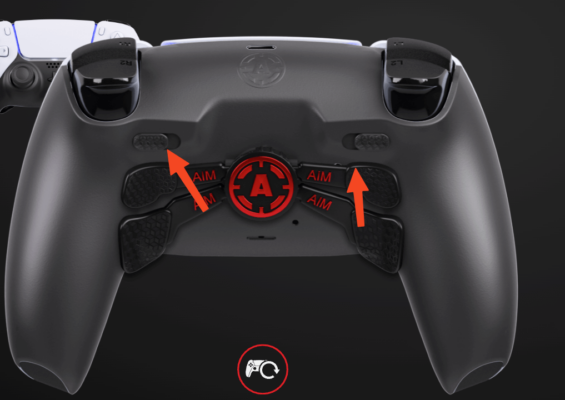 Source: AimControllers' website
Scuf Reflex Pro
The Scuf Reflex Pro is a PlayStation 5 custom controller created for professional gamers who appreciate controller personalisation to suit their individual preferences. It features interchangeable joysticks, additional buttons on the back of the controller and adjustable trigger settings for even more fine-tuned control. This PlayStation 5 custom controller also offers smooth joystick action for precise movements during gameplay. What's more, the Scuf Reflex Pro is powered by rechargeable batteries, allowing it to run for long periods without the need for frequent recharging. It is available in a few colours to match the player's style.
Razer Wolverine V2 Pro
The Razer Wolverine V2 Pro is an innovative custom PlayStation 5 pad with advanced features and gaming convenience. It boasts interchangeable joysticks, programmable buttons and advanced software that allows you to customise the controller settings to suit your gaming preferences. The controller's ergonomic design allows you to hold it comfortably during longer gaming sessions. The Razer Wolverine V2 Pro also features an advanced vibration system that allows for more detailed haptic feedback effects, increasing the level of immersion during gaming. The controller is compatible with both PS5 and PC consoles, making it a versatile tool for gamers using many gaming platforms.
Victrix Pro BFG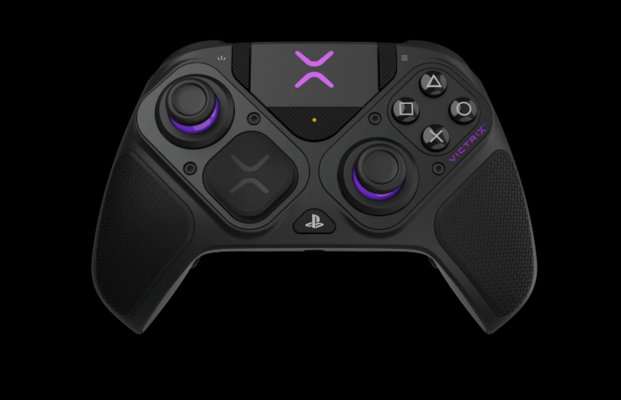 Source: PDP website
The Victrix Pro BFG makes a perfect controller for professional e-sports gamers. It is fully customisable, thus you can enjoy even more precision and comfort during gaming. The Victrix Pro BFG controller comes with a travel-friendly kit that includes a durable case to hold all cables, modules and accessories, such as a USB-C cable (3 metres) or module swap tool. Moreover, it includes 14 interchangeable components to suit your game type and style.
Sony DualSense Edge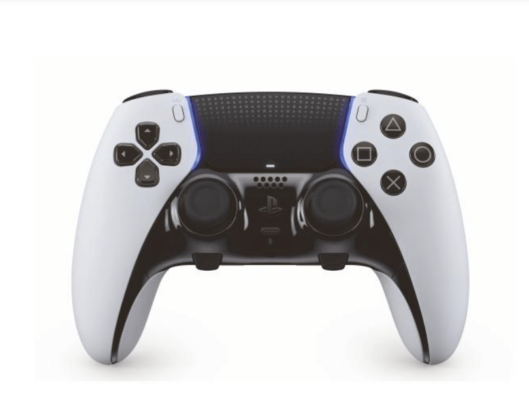 Source: PlayStation website
Sony DualSense Edge is an official controller created by Sony dedicated to the PS5 gaming console. It has advanced features such as adaptive buttons that adjust their pressure depending on the game situation, and an innovative haptic feedback system that allows you to feel the touch while playing. This controller wins in the PS5 controller comparison thanks to customisable buttons, adjustable triggers and sticks, and interchangeable stick caps and back buttons.
HexGaming Rival Pro PS5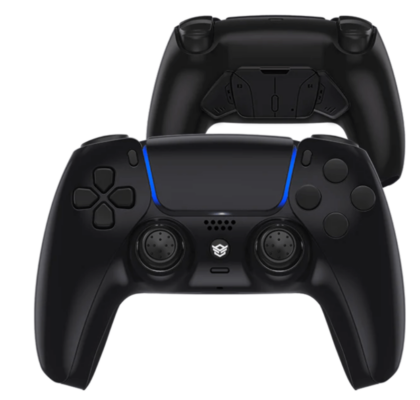 Source: HexGaming website
The HexGaming Rival Pro PS5 is a tweaked form of the original DualSense, therefore much of its design is identical to the original PS5 controller. Its basic shape and button layout are pretty much the same. It has the same longer grips and that large button pad. That being said, HexGaming has replaced the PS logo with its Home button and added some basic improvements. It features interchangeable attached magnetically analogue sticks and is available in three different lengths, all of which appear to be higher than the standard DualSense model – making it comfortable to play with regardless of hand size.
TCP Pro PS5 Controller
Besides the features known from the original DualSense controller, the TCP Pro PS5 Controller includes convenient click sticks on the back of the device, an interchangeable Analogue System that allows you to adjust the size of the thumbsticks, as well as digital triggers to reduce switching time to the digital version. Furthermore, it also has the option to add an individual d-pad and an ergonomic grip shell. Its downside, however, is the limited possibility to change the design.
PS5 controller comparison table
PS5 V1 Aim Controller

Scuf Reflex Pro

Razer Wolverine V2 Pro

Victrix Pro BFG

Sony DualSense Edge

HexGaming Rival Pro PS5

TCP Pro PS5 Controller

Weight
280 g
300 g
279 g
298 g
322 g
300 g
not specified
Dimensions
16 cm x 6.6 cm x 10. 6 cm
16 cm x 6.6 cm x 10. 6 cm
16 cm x 6.6 cm x 10. 6 cm
16 cm x 6.6 cm x 10. 6 cm
16 cm x 6.6 cm x 10. 6 cm
16 cm x 6.6 cm x 10. 6 cm
16 cm x 6.6 cm x 10. 6 cm
Battery Life
Up to 12 hours
Between 4 and 8 hours
Up to 10 hours with Chroma

Up to 28 Hours without Chroma

up to 12 hours
up to 10 hours
not specified
not specified
Wireless connection
Bluetooth 5.1
Bluetooth 5.1
Bluetooth 5.1
Bluetooth 5.1
Bluetooth 5.1
Bluetooth 5.1
Bluetooth 5.1
Cable
USB-C to USB-A
USB-C to USB-A
USB-C to USB-A
USB-C to USB-A
USB-C to USB-A
USB-C to USB-A
USB-C to USB-A
Price
£150-300
£219-300
£249-270
£179-200
£160-170
£200-300
£135-170
Features
Basic:

Active Triggers

Haptic vibration

Spider Action V3

Pro:

Remappable paddles

Smart Triggers

Smart Bumpers

Aim Back Pro

Aim Sticks

Aim Grip

Remappable Paddles

High-performance Grip

Adaptive Triggers

Interchangeable Thumbsticks

6 Remappable Multi-Function Buttons

Haptic vibration

Active Triggers

Haptic vibration

Active Triggers

Remappable buttons

Adjustable triggers, stick sensitivity & vibration intensity

Two Remap Buttons

Interchangeable Thumbsticks

Active Triggers

Digital Triggers

High-grade Grip

Removed vibration

Click sticks

Warranty
lifetime
6 months
12 months
24 months
12 months
3 months
3 months
Final thoughts on PS5 controller comparison
Many controllers are available on the market offer superiority over Sony controllers in terms of functionality and design. Therefore, all passionate gamers should certainly consider them!