The Ultimate Guide to the Best PS5 Accessories in 2023: Black Friday PlayStation Deals and More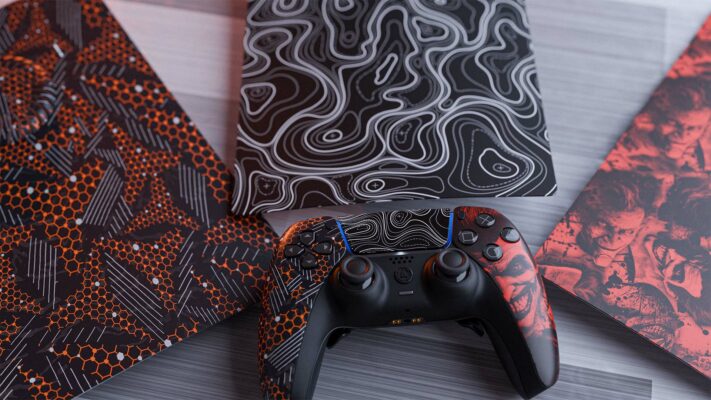 The gaming world is buzzing with excitement, and it's no surprise. The PlayStation 5 (PS5) has been a game-changer since its release, and with Black Friday just around the corner, it's the perfect time to level up your gaming experience. We're rounding up a comprehensive guide to help you discover the best PS5 accessories, including the most exciting Black Friday deals. Whether you're a dedicated gamer or a casual player, this article is worth reading to stay ahead of the curve. Now, let's dive into each of these topics to explore the world of PS5 accessories in 2023 and learn everything you need to make the most out of Black Friday deals.
Why Should You Care About 2023 Black Friday PS5 deals?
2023 is a year filled with promises and excitement, especially if you're a game-world enthusiast. One event that stands out for avid gamers is Black Friday. It's the day when you can score some of the best discounts on your favourite gaming gear, including PS5 accessories. If you've been waiting to level up your gaming setup or looking for the perfect gift for a fellow gamer, Black Friday is the day to mark your calendar.
The PS5 has already made a significant impact on the gaming world, offering cutting-edge features and an immersive gaming experience. To maximize your enjoyment, you'll want to explore a variety of accessories that complement your console with a reduced price tag, of course. Black Friday 2023 is expected to bring you some of the best offers on these accessories, allowing you to enhance your gaming experience without breaking the bank.
The Must-Have Accessories for Your PlayStation in 2023
To make the most of your PS5 in 2023, you'll want to equip yourself with a selection of must-have accessories. These items are designed to enhance your gaming experience and provide added convenience. Here are some of the essential PS5 accessories to consider:
Controllers: Having an extra PS5 controller is always handy, especially if you frequently play with friends or family.
Console Stand: A sturdy stand keeps your PS5 secure and well-ventilated.
Headset: A good quality headset with a built-in microphone ensures you can communicate with your online gaming buddies and enjoy immersive sound.
PlayStation Games Stand — Such an accessory is well worth showcasing your PS5 and PS4 games collection. May your Call of Duty, Ghost of Tsushima or God of War please the eye of every visitor to your room.
SSD: Expand your storage capacity and reduce load times with an SSD.
DualSense Charging Station: Keep your controllers ready for action with a charging station. You can find them both at the manufacturer and at third-party brands. Charging station by AimControllers also represents an opportunity you cannot pass up.
In the next sections, we'll explore each of these accessories in more detail and provide insights on where to find the best Black Friday deals in 2023.
How to Score the Best PS5 Controller Deals in 2023
One of the essential PS5 accessories you'll want to have in 2023 is an extra controller. Whether you're playing a multiplayer game, sharing your PS5 with family, or simply need a backup, having a spare controller is a smart move. But how do you find the best offers on PS5 controllers?
When looking for Black Friday deals on PS5 controllers, consider checking out popular retailers like Best Buy, GameStop, and Amazon. These stores often offer significant discounts on gaming accessories during the Black Friday sales. Also, don't forget to take a look at the AimControllers website — we're planning some nice price cuts. Keep an eye on their Black Friday ads and websites to stay updated on the latest deals.
Elevate Your Gaming Experience with the Top PS5 Console Accessories
Your PS5 console is at the heart of your gaming setup, and you can enhance its functionality with various accessories. If you want, you can eyeball the new PS5 slim, or settle for a smaller loot.  Here are some of the top PS5 accessories to consider:
Console Stand: A well-designed stand keeps your PS5 stable and allows for better airflow, preventing overheating.
Cooling Fan: Enhance the cooling of your console to ensure it operates at peak performance.
Vertical Stand: If you prefer a vertical setup for your PS5, a vertical stand is necessary for stability.
Dust Covers: Protect your console from dust and debris when it's not in use.
These accessories not only improve the performance and longevity of your PS5 but also add to its aesthetic appeal. Black Friday is the perfect time to invest in these accessories as you can expect to find them at a fraction of their regular prices.
Immerse Yourself in Sound: The Best PS5 Headset in 2023
Sound is a crucial element in gaming, and a high-quality headset can take your gaming experience to the next level. In 2023, you have several options for the best headset for PS5 that offers immersive audio and clear communication with your teammates. Key features to consider when choosing a headset include:
Wireless Connectivity: Wireless headsets provide freedom of movement and reduce clutter in your gaming space.
Haptic Feedback: Some headsets offer haptic feedback, adding a tactile dimension to your gaming experience.
Battery Life: If you plan to enjoy long gaming sessions, a headset with an extended battery lifespan is a must.
Black Friday is an excellent opportunity to find deals on these high-quality headsets. Look for discounts on popular gaming headset brands like Sony, SteelSeries, and Astro.
Boost Your PS5 Storage with the Best SSDs
With the growing library of games for the PS5, storage can become a concern. The good news is that you can upgrade your console's storage capacity with a compatible SSD. A high-performance SSD not only provides more space for your games but also reduces load times, ensuring you spend less time waiting and more time gaming.
In 2023, the best PS5 SSDs offer impressive read and write speeds, and some even come with exclusive features like additional cooling mechanisms to prevent overheating. When searching for a PS5 SSD deal on Black Friday, consider brands like WD Black and Samsung, as they are known for their high-quality SSDs.
The Ultimate Guide to PS5 Headset Deals on Black Friday
As Black Friday approaches, it's important to be well-prepared for the best deals on PS5 wireless gaming headsets. To help you in your quest to find the perfect headset at the right price, we've compiled a few tips:
Research: Before the big day, do your research to identify the headsets that meet your needs and budget.
Create a Wishlist: Make a list of the headsets you're interested in and set a budget for each one.
Stay Informed: Keep an eye on gaming news and announcements for early Black Friday deals and discounts.
Compare Prices: On Black Friday, compare headset sale prices from various retailers to ensure you're getting the best deal.
Check for Bundles: Some retailers offer bundles that include additional accessories or content along with your headset purchase.
Get the Edge with the Best PS5 Controller
The controller is your primary interface with your PS5, so having the best controller can significantly impact your gaming experience. In 2023, you can find a variety of controllers designed to cater to different gaming styles and preferences. When searching for the best PS5 controller, consider the following features:
Haptic Feedback: Experience precise and immersive feedback during gameplay with controllers that support haptic feedback.
Triggers: Enjoy more responsive and dynamic gaming with controllers that feature smart triggers.
Audio Features: Some controllers have built-in audio features that enhance sound quality and communication.
Battery Life: Longer battery life means fewer interruptions during your gaming sessions. Sony's DualSence and DualShock battery lasts around three hours.
Finding the perfect PS5 controller for your gaming style is easier during Black Friday, as you can expect to see a variety of controllers on sale. Keep an eye out for first-party PS5 controllers from Sony as well as third-party options.
AimControllers Black Friday Controller Deals And More
Are you tired of standard colour options such as cosmic red, nova pink, starlight blue and midnight black? Then leave the official PS5 controllers for now and go for something extra – a personalised PS5 controller from AimControllers featuring a USB input, special AimGrip coating, adaptive Triggers and Bumpers and much more at an excellent price and a massive range of available designs and colours be able to play new PS5 games with pleasure. Anyone who uses personalised controllers will tell you it's worth it!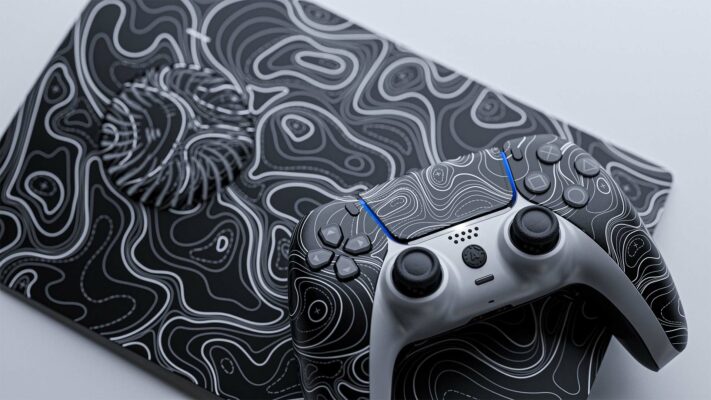 This year, we are breaking through last year's Black Friday by lowering the PS5's accessories price point even further. Besides PS5 controller deals, we also offer easy-to-set-up PS5 controller snap panels, PS5 covers and top controllers for Xbox One, so there is plenty to choose from. So be sure to follow our AimControllers social media profiles — that's where you'll find out the most up-to-date information on our deals and sales offers!
Early Black Friday Accessory Deals for Your PS5
If you can't wait for the official Black Friday sales, don't worry. Many retailers offer early Black Friday deals that allow you to start your holiday shopping ahead of time. These early deals often include a wide range of gaming accessories for your PS5. By taking advantage of early Black Friday sales, you can avoid the rush and ensure you get your hands on the best PS5 accessories for 2023 before they run out of stock.
The Best PS5 SSD for Faster Loading and More
As you consider upgrading your PS5 accessories, one essential item to prioritize is a high-quality SSD. These storage devices not only provide additional space for your games but also improve load times, making your gaming experience more seamless and enjoyable. To find the best PS5 SSD deals in 2023, look for brands like WD Black, Samsung, and Kingston.
Conclusion: Your Ultimate Guide to the Best PS5 Accessories in 2023
In 2023, the world of gaming is evolving rapidly, and the PS5 is at the forefront of this evolution. To make the most of your gaming experience, it's crucial to have the right accessories. Black Friday 2023 is your golden opportunity to score incredible deals on the best PS5 accessories, from controllers to headsets.
Here's a quick summary of the key takeaways:
Black Friday is the perfect time to find great deals on PS5 accessories in 2023.
Must-have accessories for your PS5 include controllers, console stands, headsets, SSDs, and charging stations.
Look for early Black Friday deals to get a head start on your holiday shopping.
High-quality headsets and controllers with haptic feedback and adaptive triggers can elevate your gaming experience.
A top-tier SSD not only provides more storage but also faster load times for your games.
So, prepare your gaming space, create your wishlist, and get ready to make the most of Black Friday 2023 for the best PS5 accessories. Whether you're enhancing your own gaming setup or choosing the perfect gift for a fellow gamer, this year's deals are not to be missed — especially AimController's!