Anyone who has ever had a controller goes flat at the worst moment knows how important it is to remember to charge your equipment regularly. It used to be a bit more difficult. You had to plug your controller into the charger and wait a few hours until it was ready to conquer new worlds and take on your rivals in races. Fortunately, present-day gamers have more comfort, as charging stations for next-generation consoles are becoming accessible. With these, all you have to do is put your controller back where you found it when you're done, and you can be sure that next time you're ready for action. A charging station is a perfect gift for a gamer! But which PS5 controller charging station should you choose? What is the best choice for Microsoft consoles? And is there a difference between the PS5 and Xbox Series X controller charging stations? Let us find out together!
How do I charge my next-gen controller on a charging station?
Wondering how do I charge my next-gen controller on a charging station? Not sure for how long can you leave controllers on the charging station? Are you asking yourself whether I can leave the PS5 controller in the charging station overnight? We will explain everything in a moment! Both PS and Xbox Series X controller charging stations work on similar principles. Depending on the specific specifications, the use and charging time differ slightly, but the principle is the same, you place your equipment on a dual charging station for Xbox or PS, and after about an hour, your controller should be fully charged. It's child's play and looks good too.
Dual charging station for PlayStation 5 or Xbox — original or replacement?
When choosing a dual charging station for PlayStation 5 or Xbox, you are certainly faced with the decision of whether to go for the original or opt for a replacement from a recognized company such as Razer. It is known that the original equipment, from the manufacturer, will be the most compatible, high-quality and durable. Both the original and best Xbox Series X and Series S charger, as well as the one from Sony, are high-end equipment, worth their price. However, this one, it has to be said, is quite high, and on top of that, as it happens with PlayStation accessories, is hard to find. An Xbox or PS5 controller charging station from a reliable company will not be inferior in quality and will be compatible with both Xbox and PS5 controllers. However, there are plenty of replacements available at different price ranges and with different specifications, so be sure to take a look at our ranking before you buy.
Dual charging station for PS5 by Sony
The DualSense charging station is the ultimate controller charging hardware. It allows you to charge two PS5 controllers simultaneously without connecting them to the PS5 console. Using this technological marvel, controllers charge just as fast as when connected to the PS5 console, so you can free up your USB ports without compromising performance and use them for other purposes. It's a high-quality piece of hardware, and it ranges in price from $25 to $35. The drawback is that, like the PS5 console itself, we often have to deal with stock shortages of this dual charging station for PS5.
Dual charging station for Xbox — Universal Razer charger
Razer has made universal quick charging stands compatible with Xbox Series X/S, Xbox One and Xbox Elite Series 1 controller, but not only but there is also a version that fits the PS5. Universal quick dual charging stations for Xbox and PS use a magnetic docking system, making it easy to plug in your controller. With quick charging support, the controller charges very fast, minimizing unexpected downtime in gaming. The Universal Quick Charging Stand is available in Carbon Black, Shock Blue, Robot White, Pulse Red and Electric Volt, which are the official colours of the Xbox wireless controllers. Razer hardware features superior quality, convenience and fast charging times.
Aim's charging station for the DualSense and Xbox X series controllers, the Aim Charging Station, takes around 2 hours to charge simultaneously. This PS5 and Xbox X controller charger provides an easy and quick way to charge and store your controllers, because it features an improved charging mechanism, while looking neat and sturdy. The dual docking station ensures that your PS5 or Xbox controller never gets in the way of beating your rivals. The Aim charging station is a definite gem in the Aim Controllers' accessories section and costs significantly less than its forerunners.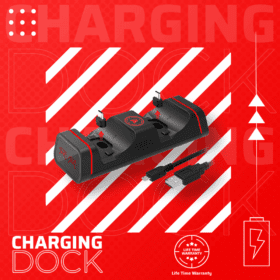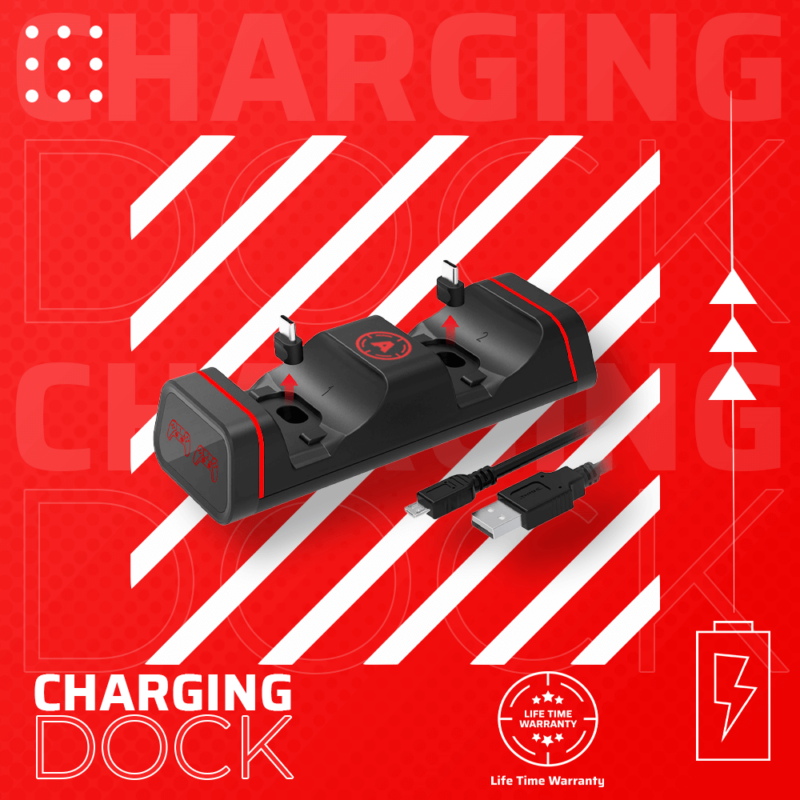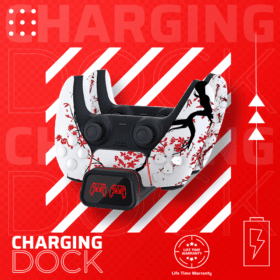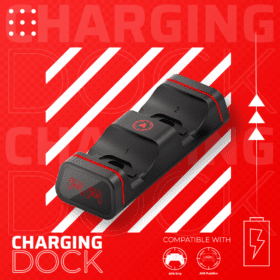 OIVO Docking Station Replacement for DualSense Charging Station
This dual charging station for PlayStation 5 is specially designed to be connected to a designated AC adapter (5V/3A) to charge two PS5 controllers simultaneously, which is cheaper than its predecessors and just as sturdy. It's a must-have accessory for PS5 gamers who own two PS5 controllers because it's compatible, nice and fast. This charging kit for PS5, according to Amazon users, is the best replacement for the official OEM DualSense PS5 controller charging station.
Fosmon Dual 2 Max Charger
The Fosmon Dual Charger, thanks to its fast charging, should get you back to battle-ready in no time. It comes with the device and two 2200 mAh batteries, which are capable of providing up to 40-45 hours of gaming on each charge. Placing the controller in the dock is fairly easy thanks to the metal cable and when the console is off. This is a good and affordable option for most gamers!
PowerA Twin Charging Station for DualSense Wireless Controllers
The final item on our list is the Xbox and PS5 controller charging station from renowned brand PowerA. Charge and display your DualSense wireless controllers with the officially licensed Twin Charging Station for PlayStation 5. Charging two controllers simultaneously is simple, all you have to do is click down to see the LED on the base light up to indicate the charge level. It's a good option that fits into the $25 bundle.
That's everything on our list now. And which charging station did you buy for your precious PS5 and Xbox controllers? Maybe you'd like to share your opinion on them with us? We look forward to hearing from you in the comments section.