Football and console fans unite! With AimControllers you can once again count on something extraordinary! What do we have for you? Something we never expected! Today we present a new collection of controllers created in collaboration between AimControllers and Robert Lewandowski! You can now get to know our unique Robert Lewandowski PS controller collection developed together with one of the best and most famous footballers on the planet, considered to be one of the top strikers in the history of world football. And this, combined with our technology, is a special treat for gamers!
PlayStation and Xbox controllers made in cooperation with Robert Lewandowski — a little about our football star
Robert Lewandowski is a Bayern Munich player, captain of the Polish national team and one of the best footballers in the world. He has performed and succeeded at the 2018 World Cup, as well as 2012, 2016 and 2020 European Championships. Robert Lewandowski is the only Polish footballer to have scored goals at three European Championship finals tournaments and is the only player in history to have received the FIFA Footballer of the Year and UEFA Footballer of the Year awards. It is because of his fame, achievements and extraordinary talent that we have chosen him as a person with whom we want our company and our production to be associated. Our Robert Lewandowski PS controller series combines state-of-the-art technology with references to this famous player. Although people often say that opposites attract, we are of a different opinion – for us, it is the similarities that match, and the highest quality likes similar quality.
PlayStation and Xbox controllers made in cooperation with Robert Lewandowski — a little about the results of our work
AimControllers, in collaboration with Robert Lewandowski, has created amazing Robert Lewandowski PS controller series and Robert Lewandowski Xbox controller series. Each of our controllers is the latest technological marvel. The football-related details are surrounded by the iconic RL9 initials along with the AimControllers colour scheme (predatory red and timeless black), which fits the design perfectly and influences the mood, energy to improve the gameplay performance.
The icing on the cake turns out to be the motivational text "Never stop dreaming", which is designed to make our customers realise that everyone can be successful they need to strive for their achievements.
What are the controllers from the series created in collaboration with Robert Lewandowski, and what are their characteristics?
The series created with our football star is divided into two groups in terms of technological advancement and customisation options – Premium and Basic versions, as well as according to compatibility with different consoles for PS5 and Xbox. We will tell you more about the differences now.
RL9 PS5 controller – Premium and Basic versions 
RL9 PS 5 controller in the Basic version combines the latest technology, characteristic for Aim Controllers, with an attractive design, referring to the number and motto of Robert Lewandowski. The Robert Lewandowski PS controller Basic version features the highest quality components, ergonomics and button key sensitivity. However, if you want something more, and precisely the customisation options, then the Robert Lewandowski PS5 controller Premium version is waiting for you on our website. The Premium line is dedicated to the most advanced gamers who want something more than just design. We've gone above and beyond to create controllers that will not only inspire but will also fully prepare you to instantly improve your gaming performance. Our Robert Lewandowski PS5 controller is both durable and comfortable to use has all the extra modifications – using our programmable paddles, Smart Triggers and Smart Bumpers, you are sure to surprise your opponents in the game! A true gamer's dream!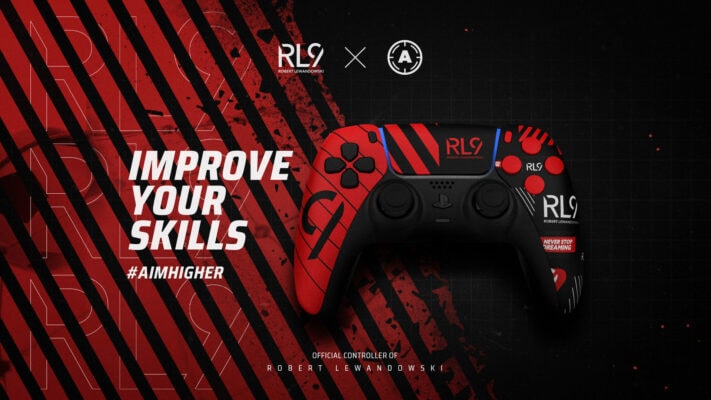 RL9 Xbox controller – Premium and Basic versions
In addition to the great Robert Lewandowski PS5 controller series, we also have something for fans of the Xbox X and S. Our RL9 Xbox controllers, like the previous ones, come in Basic and Premium options. In the Basic version, we can count on the best quality – both in terms of design, because it is black and red, with interesting graphics and the Robert Lewandowski motto, as well as the latest technology and best components. It is a piece of truly solid and durable equipment for all gamers. As far as the Premium version is concerned, apart from the attractive appearance, durability of components, ergonomics and functionality, every player can count on the options of personalisation of the equipment and adjustment of each function to personal preferences. With a combination of Smart Triggers, Smart Bumpers and Paddles configured by default you can be sure to get a personalised and customisable piece of state-of-the-art hardware in every respect. Every aspect of the controller has been designed to meet the expectations of the most demanding gamers – by opting for our Xbox Premium version, you can gain a real advantage over your opponents.
As you can see, our latest series of RL9 controllers is a real rarity for all fans of console gaming, football, and Robert Lewandowski himself. For dessert, we can add that all versions come in an elegant, aesthetic box that will delight anybody! Can you imagine a better gift for the upcoming Christmas than RL9 PS controller? We can't!